I've always suspected that B2C marketers got far more respect than those of us in the B2B world.  While well-marketed B2C products seemed to sell themselves, the sheer complexity of matching B2B products to a particular buyer's needs appeared to position Sales as the permanent source of meaningful revenue results.
I'll never forget a workshop I led many years ago – the marketers' stunned reaction when a senior exec asked for proof that any of the company's revenue was influenced by those in attendance.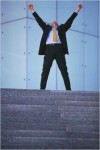 Fortunately, I'm now seeing indicators that our days as the "Rodney Dangerfield" of sales and marketing are ending. And who can we thank for our elevated role and status? None other than the buyers as they change the rules about how they make decisions for even the most complex B2B solutions.
A recent report by Corporate Executive Board's sales practice reported that B2B buyers are 57 percent of the way to a buying decision before they are willing to talk to a sales rep. It's becoming clear that only a strategic and buyer-savvy marketing organization could be relevant to such independent buyers.
Here's a case in point: I just had an interesting online dialogue with a sales rep who had recently lost two deals for a complex B2B solution because the buyers believed in the competitor's approach.
"I have been in two different cycles this year already where the buyer was armed with a portfolio of misinformation and dug their feet in because their people researched it on social media and the Internet," the sales rep wrote. "I didn't care so much that we lost, what I cared about was the clients' addiction to that information as if it were the truth."
As an experienced sales rep, he had lost deals like this in the past, but always because the competitor's sales rep got to the account first. In this case, the competitor's marketing had been the source of success for those deals – quite an acknowledgement from a sales guy. I suspect he's going to be talking to his marketing team about that.
Buyers are creating a huge opportunity for us to change the relationship between B2B sales and marketing. When buyers depended on our sales people for most of their information, we could communicate the basic benefits of our solutions, and then it was the sales rep's job to discover each buyer's specific needs and build the trusted relationship that would win the deal.
I'm working with marketers who are learning how to be the buyer experts. I'm watching as they gain deep insight into exactly which factors their buyers evaluate. I'm coaching them to leverage these insights to build highly segmented, relevant messaging.
And now I've got anecdotal evidence through this week's online dialog that B2B marketers are generating leads that are 57% (or more) ready to buy their solutions.
Would you like to become a buyer expert and play a strategic role in your organization? Consider taking my first online public workshop, Buyer Persona Masterclass, on Thurs., March 29, 2012. My half-day workshop will give you the tools to become a buyer persona expert and plenty of hands-on experience.
Enrollment is extremely limited, so register today. I hope to "see" you there!