Just because you've met with internal stakeholders and can tick off buyer pain points– increasing operational efficiency, reducing costs and minimizing risks—doesn't mean you know your buyer personas.
Marketers need to go beyond the obvious, generic stuff and understand the real questions buyers ask as they evaluate the solution you are marketing. For example, what initiatives trigger your buyer's search for alternatives to their current approach? What objections will you have to overcome to persuade the buyer to consider you?
More often than not, companies' knowledge of their buyers is limited to obvious data based on job title and role. It's even worse when their personas focus on trivial points about B2B buyer's hobbies or personality.
Buyer personas are useful to B2B marketers when they convey specific insights gathered from first-hand conversations with recent buyers.  You can easily learn how to engage in direct conversations with your buyers, discovering exactly what you need to do to persuade them to choose you. The result is a buyer persona that is unexpected, factually correct, and not available to your competitors.
Getting started
These templates will help you get started, showing you exactly what you need to know about your buyer personas.
Part 1. Use the Core Buyer Persona Template (left) to capture your buyer's demographic information and priority initiatives. This template captures only the basic information about a buyer persona that would not be influenced by the products, services or solutions you are marketing.  This information is helpful for targeting the most receptive buyers, but Part 2 of the buyer persona is needed for every other marketing decision, including messaging, content marketing, segmentation, marketing mix, and sales enablement.

Part 2.  Use the Product-Persona Connection Template (below) for data that varies depending on the product, service or solution you are marketing. This template focuses on the information you will need to define strategies, messaging and content, including the buyers' description of their success factors, perceived barriers, buying triggers, decision criteria, influencers and resources.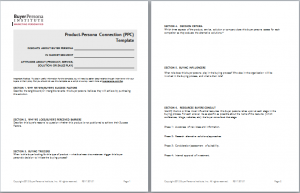 It is important that your source for the content in these templates is from direct conversations with your buyers. You will need to master just a few new skills to conduct the unscripted interviews that lead buyers to disclose facts they haven't yet shared with anyone else.
We call these facts the Five Rings of Insight because they provide a clear picture of everything you need to know to impact your buyers' decision:
Priority Initiatives:  three to five business problems or objectives that the buyer is dedicating time, budget or political capital to addressing, and how those relate to your solutions.
Success Factors:  tangible or intangible rewards that the buyer associates with success for each priority initiative.
Perceived Barriers:  the buyer's reasons to question whether your solution or company can achieve the success factors.
Buying Process:  the process the buyer will follow to explore and select the product, service or solution.
Decision Criteria:  aspects of the product, service, solution or company that the buyer will assess in evaluating solutions.
These buyer persona templates are freely available without registration. I hope they will inspire you and your colleagues to begin talking to real buyers and building your own buyer personas.  As always, I welcome your feedback on the templates to help me continue to improve them.
Adele Revella will teach marketers how to interview buyers in her "Building Your Buyer Personas" workshop at Content Marketing World on Sept. 4, 2012.  Find more information about buyer personas at www.buyerpersona.com.