I used to think that creative genius and rare intelligence separated great marketers from those who toil away in relative anonymity. It was easy to imagine that something as unmanageable as luck and native talent determined one's place at the top of the marketing profession.
Then, I had the opportunity to work side by side with some of these "experts."  Yes, they have a keen intelligence. But over the decades I've spent as a marketing executive, consultant and trainer, I've met hundreds, perhaps thousands, of equally talented people who never got much recognition for their hard work, their products or their companies.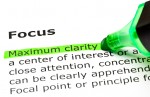 Now I believe that a much more controllable characteristic, the discipline of focus, sets marketing experts apart from their colleagues in the trenches.
In whatever role they take on, the experts I know have selectively chosen an area of knowledge and turned it into a golden career advantage. They started by learning as much as they could from what's already known about a given topic or discipline. Then, everything they engaged in became another opportunity to gain new perspectives. Every meeting was a chance to listen, ask questions and build on their expertise.
These experts had the same internal pressures and to-do checklists as everyone else, but the experts consciously chose to focus their minds on a different path. They chose to become a central repository of important insights that cannot be found anywhere else.
Every time I meet people who feel stuck in a tactical role – as many marketers are, despite adding "strategic" to their titles – I encourage them to take stock of their situation. How much focus have you given to developing knowledge or skills that are truly unique and respected?
I recently wrote an article for CMO.com, suggesting that marketers need to build a distinctive competency that would position them as buyer experts. This is an area where no one in the company is focused. And there is a vacuum of insight into how buyers make decisions to buy a company's products, a competitor's or to do nothing at all.  That's because no one in any company, in the normal course of business, has the exposure to the buyers' thinking that this role requires.
Some companies think that sales people are buyer experts. But talk to any sales rep about why he lost a deal and you'll hear about price and features. When marketers engage in direct conversations with those same buyers, the story is rarely about these concerns, revealing facts that the buyer has not yet shared with anyone.
In fact the only way for marketers to become buyer experts is to engage directly with buyers through unscripted conversations. The buyers' first answer to any question is never surprising, so the marketer must learn how to skillfully probe for as-yet-unarticulated facts about how and why buyers make the choices the company wants to impact.
Marketers who are buyer experts gain real insight into which buyers make a buying decision and who to target. They know which marketing tools and programs they need to build to influence buyers. They can address the barriers the sales people face in moving deals through the selling cycle, identifying ways to align buying and selling processes to gain competitive advantage.
If you take this approach, you will soon become a buyer persona expert. And you will likely watch your credibility and stature grow in the organization. As you do, start preparing for your next promotion – because it's definitely coming.
If you'd like to become a buyer expert, join Adele this Thursday, Oct. 18 for her in-depth workshop, the online Buyer Persona Masterclass. (Enrollment is limited, so register today.)