It was 8:30 a.m. Pacific Time on January 28, 1986. This would be my second day as an Account Executive at Regis McKenna, the PR firm that Apple, Intel and most of the successful technology companies at that time trusted for their positioning and marketing strategies. I had a bit of marketing experience from my prior tech company job, but frankly, I was filled with anticipation and nervous about working for a famous PR firm.
I was in a conference room with a few of my new colleagues, preparing to learn more about my first assignment: conducting buyer interviews as a foundation for positioning an upcoming Intel launch.
Before we started our meeting, we decided to watch the televised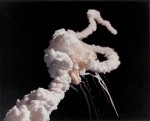 launch of the Challenger space shuttle. Christa McAuliffe, a school teacher and the first "regular person" to become an astronaut, was among the 7-person crew. Christa's inclusion was a part of a 1984 presidential initiative to promote the importance of teachers, science, and the space program, which meant that millions of school children were watching as the doomed shuttle exploded just 73 seconds after take-off, killing everyone on board.
Social media and the Internet had not yet been invented, but 85 percent of Americans knew about the tragedy within the first hour. The president's plan to promote science was shattered, and the shuttle program itself was on hold for 32 long months.
It would be years before I fully appreciated how much I had learned that first week on the job. The research into the cause of the Challenger disaster demonstrated that internal pressure can override reason, resulting in stupid, even fatal, mistakes. Over the decades I spent in executive marketing and consulting, I learned just how critical it is for internal experts to be recognized and appreciated for their knowledge, and how difficult it is to convince an organization that a popular idea is flawed.
I also learned that marketers are rarely the trusted resource for knowledge that can prevent otherwise successful products from crashing and burning. This has got to change.
The training I got at Regis McKenna during that week in 1986 never mentioned buyer personas. They trained me to conduct "internal and external audits," a terrible name for a great idea that involved interviewing internal stakeholders to understand their strategy, followed by buyer interviews to understand their point of view. I learned that I could market even seriously obscure technology if I simply listened to both perspectives to find the spot where they intersected. I learned that no one in most companies is a buyer expert, and that only marketers can prevent companies from pursuing a plan that has a good chance of exploding seconds, weeks, even years, after takeoff.
The Regis McKenna experience gave me the confidence and courage, in 1987, to start my own PR and market research company. A few years later, I sold it and accepted a position as VP of Marketing for a company that wanted me to build a market for a seriously obscure new solution.
The story of how buyers led me to a successful strategy in my first role as a VP is where I started my new interview with Matt Grant, managing editor and host of MarketingProfs's popular Marketing Smarts podcast series.
In my 31 minute interview with Matt Grant, we chat about:
Part 1:  Building a market for "seriously obscure" products (1:50)
Part 2:  How we identified the buyers who would be receptive (4:00)
Part 3:  A story about a product that was doomed to fail (12:15)
Part 4:  Ad Age says that Marketers get no respect, the future of Marketing (15:20)
Part 5:  What is unique about your approach to interviewing buyers (22:15)
Part 6:  Why your Buyer Persona Manifesto recommends radical change (27:16)
Link to ebook and workshop mentioned in the podcast.
I hope you'll have a listen and enjoy!