Given the big investments that companies make in content marketing, you'd think that buyers would be impressed. You'd also expect that company executives would be enthusiastic about marketing results. Yet, marketers continue to struggle for budget, and buyers regularly tell us that vendor-supplied information isn't helpful.
I'm talking abou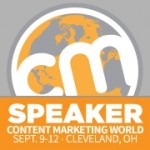 t a solution to this dilemma during my presentation at this year's Content Marketing World, which will rock the Cleveland Convention Center September 9-12. Thanks go to the "godfather of content marketing" Joe Pulizzi for inviting me back for a second year.
I'm building my CMW presentation around a buyer persona for a marketer who is considering an email marketing solution.  Many people have asked me for an example buyer persona and I've always regretted that I had to say no. I fully understand, however, why our clients will never allow us to share their competitive insights.
So I decided to develop this persona for an imaginary company, and could use two or three more volunteers for the interviews. If you have evaluated an email marketing solution within the last six months and can spare 30 minutes to be interviewed about that decision before August 27, please contact me. It's fun and you'll get to hear how we conduct buyer persona interviews.
At CMW, I will explain how marketers can become a strategic resource by changing the conversation with buyers and internal stakeholders. I'll explain the 5 Rings of Buying Insight for the example persona and show everyone how I would use those insights to drive a competitive content strategy. I'll also talk about how to show up as a buyer expert at planning and sales meetings, and how this small step repositions marketers as a high-value strategic asset.
I've decided to keep the example buyer persona secret until after Content Marketing World. But shortly thereafter, I'll publish it here on my blog for those who cannot attend.
Want a preview of the conference? TopRank Online Marketing recently published this wonderful ebook – Content Marketing Rocks! 36 Tips from Rock Star Brands and Marketers. Thank you, Lee Odden, for including my quote (on page 27).
If you will be at Content Marketing World this year, please email me or contact me through the conference app. I don't want to miss seeing you there!