People ask me why I decided to focus on buyer personas.
Easy. I like to impress people.
And it's easier to impress people when you know what they want.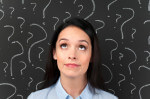 Very early in my life, I learned that I could exceed expectations by figuring out what mattered most to the people around me. I learned how to ask good questions, and to listen intently to the way the person interacted with me about the topic.
People would often give me short answers that weren't very helpful. But through persistence and interesting follow-up questions, I was able to learn the most amazing things.
This is the approach that landed me in the technology field more than 30 years ago. I had zero background in computers, but because I was genuinely interested, not only in how it worked but also why it was important to people, there was always someone willing to talk to me.
When I got into marketing, this simple approach began to pay big dividends.  By then I had learned that information that was easy to get wouldn't set me apart from anyone else.  So I quickly observed that the best way to impress my boss, the salespeople, and a whole lot of other people was to make a positive impression on the buyers who were looking for solutions like ours.
No one told me that directly, mind you. In fact, the people I worked around didn't even talk about our buyers. Every conversation was centered around our company's products, strategies, or goals. We had endless meetings to evaluate options to talk about what we were doing and deliver that message to the market.
But no one ever talked about what the buyers wanted.
My colleagues would sometimes talk about "the market." But this never seemed like a very useful conversation. "The market" seemed to consist of relatively meaningless statistics about the size of the companies or industries where our buyers worked.
Sometimes we'd hear what the analysts were saying about "the market," which was mainly their perception about how we were doing compared to the competition. This led to discussions about how we could be better or different than the other companies.
None of this addressed my deeply-held conviction that success comes easiest to those who know what matters to real people. During our meetings, I'd ask questions like "what do the buyers want?"  and "if we make these changes, will the buyers care?"
I generally got blank stares.
But I persisted, because I knew that if I had these answers, I could use them to build strategies that worked for everyone. I knew that I had to find the place where our products, strategies and goals intersected with what the buyers actually wanted.
I started finding ways to talk directly to buyers. Since one of my key goals was leads and demand generation, I was extremely curious about why some buyers had suddenly decided to make it a priority to investigate a solution like ours.  So I found opportunities to talk to people who had recently bought our solutions.
I'd start the conversation by asking them about what happened on the day when they started looking for a solution like ours. After probing on that theme for a while, I'd get the buyers to tell me their whole story about what happened as they evaluated all of their options. I never accepted an easy, obvious answer. The process was one of digging around, looking for real insight.
I saw again and again that people want to engage in an open conversation about what matters most to them. I listened intently as people got caught up in the dialog and provided information I could have never thought to ask about.
It didn't take long to see patterns in our buyers' stories.  It didn't take long to notice that some of the distinctions we'd had about market segments were largely irrelevant. And it didn't take long before I could build and defend strategies and tactics that I knew would resonate with our buyers.
I know that this simple idea is the reason that three different companies asked me to serve as the executive responsible for their product management, marketing and sales teams. Through that experience, I saw the power of buyer personas to impact every one of these functions
So in 2001, when I built the product marketing workshop for Pragmatic Marketing, buyer personas were the organizing principle for the entire course. Over the next ten years, I traveled the world, attempting to cram everything I knew into two action-packed days. The feedback forms always told me that buyer personas were the most important part of the workshop.
In the emails that followed, I saw that people needed more guidance. I saw that conducting this type of interview didn't come naturally to many people.
I realized that I had to build structure and training around the interviews or marketers would create buyer personas that were only skin deep. I noticed that larger companies needed help with the cultural and process issues that emerge when the buyer's voice is a part of the workflow. And I saw that many companies preferred to have buyer personas built by people who were already experts.
Once again, I listened intently to what really matters to people and founded Buyer Persona Institute to answer that need. This gave us the opportunity to impress hundreds of clients, thousands of marketers, and countless buyers all over the world.
This cycle of listening and impressing buyers is the reason that we say that our sole aim at Buyer Persona Institute is enabling marketers to say: "This is what matters to our buyers. So here's the plan."