It's been a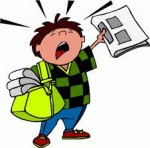 lmost three years since I published The Buyer Persona Manifesto, and so much has changed.
In 2011, few marketers had even heard about buyer personas. That's why I devoted a sizable portion of the book to explaining what a buyer persona is about and why they are important.
Fast forward to 2014 and buyer personas are in use or under development by 73% of B2B marketers who completed a recent survey by ITSMA.
The interest in buyer personas has exploded, but the need to understand them hasn't changed. In fact, at the Buyer Persona Institute we hear from marketers every day who lost their way as they attempted to build or leverage this important tool.
So I decided to publish a Second Edition of The Buyer Persona Manifesto to clear the waters and lay down a proven foundation for using buyer personas to produce reliable, actionable results in marketing.
In this completely updated ebook, I talk about:
How to move beyond the buyer's picture and capture her voice, focusing precisely on the narratives that are crucial to the marketing mission
How buyer personas differ based on the amount of consideration a buyer gives to the buying decision
How to avoid the traps of too many buyer personas that reveal too little in the way of insights
How to interview buyers, including who to interview and what to ask
How to put buyer personas to work for marketing and sales enablement
The one thing we didn't change? All of our buyer persona resources, including this new ebook, our buyer persona templates, and the ebook I co-authored with Maribeth Ross: For Content Marketing, Let Your Buyers Be Your Guide, are still available absolutely free. And the ebook is published under a Creative Commons license to encourage everyone to share it with anyone who might benefit.
I believe that buyer personas are one of the most powerful resources in a marketer's toolset. I want to make sure that every single person using them has the reaction that inspired the opening sentences of The Buyer Persona Manifesto:
"It's almost like cheating, like getting the exam paper weeks before the final. Instead of guessing what matters, now I know… not only what the customer wants; I know how she goes about deciding. It's fantastic!"
So please read, share, and connect with me on Twitter, Facebook and LinkedIn to ask any questions you might have.