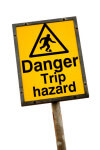 If you've been reading this blog, you're well aware of the impact that properly-constructed buyer personas can have on sales and marketing. But – and this might seem strange – for best results, you don't want to send your personas straight to the sales team.
There's one more step, and it's crucial, because sales people are one of the primary beneficiaries of the deep insights you've uncovered. A misstep has consequences that can cast your persona initiative in a less than favorable light.
Remember that an insightful buyer persona talks about what buyers want from solutions like yours. Sometimes buyers want something your solution can't deliver.  Or the buyers may describe expectations where you need to give some thought to your response.
Here's an example – say "easy to use" is an important part of your persona's decision criteria. From the interviews that we conducted with real buyers, we know that buyers who say "easy to use" want it to "work just like other programs I use, so I won't need any additional training."
But your product might not work just like these other programs. It might need additional training. So Marketing would work with involved departments to make the training something that can be minimized – say with a 30-minute video that will bring users up to speed simply and effectively.
Now Sales can address "ease-of-use" with a direct, factual response that keeps the company honest. "It's just a 30-minute video."
When Marketing communicates buyer expectations without describing the appropriate response, it can lead to a lot of counterproductive behavior, including that classic move where Sales makes things up to impress the buyer. Or Sales may avoid following up on your leads, feeling defeated because they can't deliver on every expectation.
Marketers also need to remember that sales people are trained to treat every buyer as unique. Talk about buyer personas and you could spend your time defending the entire concept of an example buyer, distracting everyone from the powerful insights you've uncovered and how your salespeople can leverage that knowledge in their sales calls.
Sales people are reluctant to follow up on leads when they don't have experience with a particular solution and buyer. Understandably, they're concerned about what questions might arise or how the competitors might derail their sale. With buyer personas, we can give them advance warning – here is the type of buyer that you'll be talking to at every step in the sale. These are the expectations that each person will bring to the table. And, best of all, here are the resources you need to address those expectations and close the sale.
Keep your personas in marketing, but by all means communicate the insights you've uncovered and your strategies to address them.