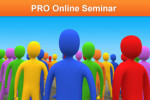 This Thursday, I'll deliver an online seminar at Marketing Profs that I'm really excited about.
I've delivered countless presentations about the need for effective buyer personas, but this is the first time where I've got 90 minutes to focus on how to effectively use them.
The idea for this session came from a recent ITSMA survey where marketers were asked if they felt their buyer personas were being used effectively. The vast majority – 83% – answered "somewhat."
That's obviously not the response we want for a tool that can be incredibly powerful in the right hands. So how do we leverage these personas and the insights we gain from them to make a measurable difference in marketing ROI?
This Marketing Profs Pro Online Seminar focuses on three important aspects of the application of buyer personas.
The first is building your message and core value propositions. Finding the essential message of a marketing campaign is tough stuff. Delivering 15 to 20 words that compel a buyer to learn more is harder yet. Too many marketing groups opt for a summary approach – "We're the market-leading provider of scalable flexible compatible enterprise greatness" – that doesn't give a buyer anything they haven't heard dozens of times before.
Once you have the 5 Rings of Buying Insight™ for your persona, the most difficult part of the messaging effort is complete. Armed with this detailed list of your buyers' expectations, it's relatively easy to identify the engaging, actionable information that positions your solution as a perfect match for that buyer's needs.
The second topic I'll talk about on Thursday is building a solid content marketing strategy. Employing the 5 Rings of Buying Insight around each buyer should give you a list of 20 to 25 thoughts and concerns that the buyer has through the purchasing cycle. These are rich fodder for long-form content or multi-touch marketing – blog posts, white papers and other venues where you can address topics served up to you in your buyer's own words.
And the third topic is sales enablement. We talked about this a bit in last week's blog post, but this week's presentation will give me a chance to talk about how buyer personas change the relationship between sales and marketing.   I'll focus on the buyer insights that motivate salespeople to follow new leads and land new customers.
This is by no means an exhaustive list of everything you should be doing to leverage your buyer personas, but it's three things that should be at the top of your list.
I'll be going into everything above in much more detail during Thursday's online seminar. I hope to see you there.