There's a wonderful Mark Twain quote that goes like this "The difference between the almost right word and the right word is really a large matter—'tis the difference between the lightning-bug and the lightning."
One of the most compelling aspects of buyer personas is their ability to identify the words that inspire buyers to take action. In a content marketing sea of buzzwords, jargon and "me too-ness", marketers who can say something non-obvious and meaningful have a real competitive advantage.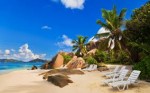 Here's an example. I recently arrived early for lunch with a business associate and noticed a Tommy Bahama store next door. Curious, I drifted in and immediately caught the eye of a salesperson who said, "I'll be right with you, I'm with another guest right now."
That's brilliant. If you're marketing a brand that wants to inspire buyers to spend north of $100 on a Hawaiian shirt, you need to change their mood. By training their sales people to say "guest" instead of "customer", Tommy Bahama evokes the attitude of a carefree vacation where buyers might actually indulge in such an extravagance.
IBM is the source of a similar example. In 2002, when they bought Price Waterhouse Cooper's consulting business, they made the deliberate decision to drop the term customers and start referring to clients. The logic? While customers engage in a single sales transaction, clients are involved in a much longer, strategic relationship.
A fascinating article on Salon last week talks about how language influences people's perception of reality. Cognitive scientist Lena Boroditsky has conducted multiple experiments on words and the emotions they inspire. I thought this one was especially relevant:
"In a series of experiments by Boroditsky and Paul Thibodeau, test subjects were asked to read short paragraphs about rising crime rates in a fictional city and answer questions about the city. The researchers then assessed how people answered the questions based on whether crime was described as a beast or a virus. In one study, 71 percent of the participants called for more enforcement when they read crime described as a beast. When the metaphor was changed to virus, the number dropped to 54 percent."
Can you imagine achieving a 17% improvement by changing just one word?
While these examples are simple in the retelling, they all began with something that isn't the least bit easy — choosing the words that will fundamentally alter their audience's experience. One of the best reasons to build buyer personas is to uncover the insights that clarify those words, and make it possible to rally internal stakeholders around that decision even if it challenges cherished opinions.