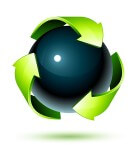 We frequently talk about how buyer persona insights add value to sales, messaging and content, but how does that work in a company with more than a thousand marketers around the globe? Over the last two and a half years, we've had the opportunity to explore that challenge with SAP.
We started with a clear business objective – ensure that global campaigns would engage strategic audiences in targeted buying centers and be implemented effectively by any SAP marketer throughout the world.
In Spain, Germany, France, and each of the 188 countries where SAP supplies software, marketers work with finite budgets to achieve all of the same goals as any marketer. To simplify marketing and conserve funds they want to leverage these global campaigns, but they need to have confidence that they will drive results with their own country's buyers.
You might think that our next step was to conduct buyer persona research in each of these regions. However, we were concerned about scalability and, more critically, knew that the differences among buyers in different parts of the world, while relevant for certain tactical activities, would be unlikely to affect the SAP core messaging and marketing content.
So we started by building personas and extracting insights based on interviews in North America. Then the global marketing team used them to guide development of campaign materials including email copy, infographics and videos.
The next step is where things really got interesting. For its demand generation campaigns, selected SAP marketers work together in a virtual team that includes participants with different functional responsibilities plus field marketers from key countries. In online meetings, we presented the buyer persona insights to each virtual team, fielding questions and comments about the findings. We gave the marketers in Latin America a chance to look at the personas and say "does that look like the kind of things we're hearing in our part of the world?" The marketing teams had the opportunity to think about the buyers in their regions before they decided if the messaging resonated and which campaigns to build.
Over the next year, SAP will conduct quantitative research to validate the buyer persona insights in some of the countries, bolstering confidence in the insights and identifying regions where more qualitative research will be needed.
I'm thrilled to be speaking with Joan Sherlock, VP of Marketing for Worldwide Marketing Programs at SAP, at Content Marketing World this September 9th in Cleveland. We'll talk about results of this program to date plus the exciting new ways that buyer personas will be used at SAP in the next year. We hope to see you there.