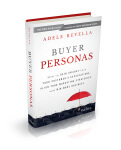 You might have noticed that I haven't published updates on this blog and that my presence on social media has been scarce over the last few months. I wish I could tell you that I'd been sailing the seas or lolling around on a beach somewhere, but in fact I've been heads down in my office and barely noticed the passing of spring or summer.
In March of 2015, John Wiley & Sons will publish the book that kept me locked away all these many months: Buyer Personas: How to Gain Insight into your Customers Expectations, Align your Marketing Strategies, and Win More Business.
It's an incredible honor to be published by one of the world's leading presses for business professionals. And I'm thrilled that the foreword is by David Meerman Scott, international bestselling author of The New Rules of Marketing & PR and The New Rule of Sales and Service.
David had been bugging me to write this book for years and I knew that he was right. As the interest in buyer personas has gone global, there is enormous confusion about how to discover and utilize the insights they should reveal. The misdirection I find online and the questions we field in our daily client interactions consistently confirm the need for a definitive guide on this topic.
But the simple truth is, I don't like to write. I'd rather interact with people. Put me in front of an audience and I'm never at a loss for words, but I'll procrastinate forever on a writing assignment. When I forced myself to sit down and write a 256-page book, I learned a lot about myself.
Psychologists Katharine Briggs and Isabel Meyers have a great explanation for the difference between introverts and extroverts. They say an introvert is someone who gets energy from being alone and with that energy, they can then go be with people for a while. An extrovert, on the other hand, gets energy from being with people and uses that energy to handle being alone. As anyone who knows me will tell you, I am definitely an extrovert.
Now I know why I get sleepy when I write, and why it's always been easier for me to edit something written by others. When I'm editing someone else's work, that's almost like a stand-in for having a person in the room that I can engage with. I can see what I need to say to alter a perception or explain a concept that wasn't clear. I understand what is already understood and how to avoid boring the person with information that might be interesting to me but irrelevant to my audience.
I learned a lot about myself by stepping out of my comfort zone to write this book, and even came to see how this aspect of my personality underlies my commitment to buyer personas as a method for marketing strategies. We don't create buyer personas while sitting alone in a room. We talk to real people and we use the insights they give us to reflect on their actual needs, interests and concerns. With a persona as a stand-in for the buyers we need to influence, we know exactly what we need to do and say to engage those people, adjust their perceptions, and avoid boring them to tears.
While reflecting on these personal insights a week after submitting the manuscript, I decided to dedicate the book "to every marketer who questions the wisdom of making stuff up."
I'm grateful to the many clients and colleagues whose questions and stories kept my energy flowing so that I could meet Wiley's deadline. By showing me how real marketers were employing my methodology and finding success with it, you helped me to dig deep and tell the whole story. I hope that it is helpful to many marketers and look forward to the next step in our journey together.
I'll tell you more about Buyer Personas: How to Gain Insight into your Customers Expectations, Align your Marketing Strategies, and Win More Business in the coming months. You can pre-order the book on Amazon here
.