I just made an important buying decision. Since Wiley will release my first book on March 9, I wanted to hire a PR firm to do the launch right. I started out the way most buyers do when they initiate a "high consideration" buying decision. I asked my peers for recommendations.
I had phone conversations with three of the agencies they suggested, talked about my book, and received written proposals from all them. They each had good ideas, and I realized that the choice wasn't going to be easy.
Then my buyer's journey was disrupted by another buying influencer (something that happens frequently in high consideration decisions). In this case, it was my publisher, John Wiley & Sons, who suggested that I consider one of the firms they had worked with before. I was frustrated to be back at the beginning of a process I had hoped to complete by then.
The interesting thing about selecting an agency to launch my book is that they all do, essentially, the same thing. They contact media, try to get coverage, and help with positioning and messaging for the launch. And of course they are all smart enough to know that they can't promise results. No one can assure me that the Wall Street Journal, Forbes or any of the other publications I hope to reach will actually interview me or write about my book.
I found myself in the same situation as the buyers we interview every day, relying on the same resources to make a significant investment in a service that is difficult to evaluate. And if I made the wrong choice, I was going to spend a lot of money and miss a big opportunity.
Wiley initially sent me a list of 20 or so agencies to consider, but after a bit of pleading they narrowed it to three. So I visited the agency's websites.
The first firm had a site that was hyper-focused on their successes in the eBook market, with plenty of detailed case studies from satisfied authors. But I'm not publishing an eBook (although there will be an electronic edition). So that focus turned me off, despite their obvious competence.
The second firm's site was professional, but generic. The authors and books they'd launched were impressive, but they looked a lot like the other agencies I was already considering.
But when I r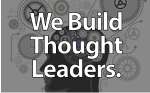 eached the homepage for the third company, Stern + Associates, my attitude changed in an instant. Right there, in larger text than their company name, was a simple message that spoke directly to me — "We build thought leaders."
My motivation for writing my book wasn't to "sell a lot of books," although that would be nice. I wanted to change the conversation about buyer personas and end the confusion with buyer profiles. I wanted every buyer persona to feature the buying insights that help marketers make better decisions. I wanted to lay a foundation for marketers to become the buyer experts their companies trust to help them win more business.
From my first visit to the Stern home page, through the sales call that followed, I heard about thought leadership. I knew that I had found an agency that understood my motivations and could help me achieve them. My choice was suddenly clear and I was more willing to invest in the budget they suggested.
Stern didn't use buyer personas to design their messaging or website. It's clear that their focus on thought leadership is part of their core business strategy and that it was simply fortunate that Wiley referred me to a firm that was a direct match for my needs.
But this story about my buying decision is the precise reason that companies need to break free of the generic messaging that sounds the same for every competitor. It's the reason that persona interviews must probe for the insights that identify an exact match between our solutions and a buyer's needs.
We want every buyer to find the solution they're seeking, and every marketer to know how to make that happen. That's why I wrote Buyer Personas.