Audience Alignment + Action
It's time to give your B2B sales and marketing teams in depth insight into your buyer's decisions, without the delay and expense of custom research.
With personas built from the thousands of in-depth interviews we've conducted for more than one hundred clients, you will hear B2B buyers just like yours describe the goals, questions, and concerns that motivate their buying decision and choice of providers.
Your teams will quickly know how to align on what they need to say and do across your most valuable segments and audiences.
How it works
We start by guiding your teams to articulate their priorities for their Ideal Customer Profiles (ICP) and Buyer Personas, including demographics such as job title, company size, industry, and geography.
Within a week, we will mine our database and deliver buyer personas that feature verbatim quotes explaining how, when and why your audiences decide to initiate an evaluation and invest with the best provider.
To ensure that your teams know what to do next to fulfill on your buyers expectations, we'll also deliver a messaging and action planning framework, plus an online training so you can conduct your own interviews and continuously improve your buyer insights
Contact us today to align your B2B sales and marketing teams around your buyer's perception of value across every step in the buyer's journey.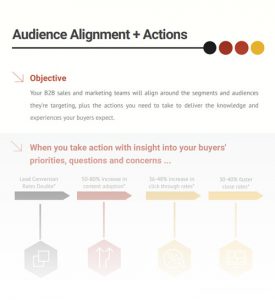 Download the Audience Alignment + Actions Infographic