Watching the Grammys last week, I was captivated by the acclaim for Adele, who dominated the night with six awards, including best song, best record and best album.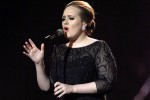 I love her music and was anxiously awaiting Adele's post-surgery performance Sunday night. I was unprepared, however, for how surreal it would be to hear 'my' name spoken again and again, and under such auspicious circumstances!
But what really stood out was the contrast in the way Adele presents herself. Unlike my usual audio-only experience of her, it was easy to see so many other ways that she differs from the 'typical' star.
Am I the only one who thought her dress was a bit tacky? And while she is a beautiful woman, Adele lacks the movie-star attributes of Carrie Underwood or even the slimmed-down version of Jennifer Hudson (who knocked me out with her tribute to Whitney Houston).
The staging of Adele's performance was unique, too. She just stood on the stage and sang, without all of the acrobatics and fancy staging that dominated performances by almost everyone else (Did you catch Katy Perry?).
In Adele's acceptance of the biggest prize, the album of the year, she apologized for the "snot" as she wiped away her tears. Can you imagine Lady Gaga swiping her arm across her nose and making such a statement (note that Lady Gaga won nothing at last week's Grammys!)
I'm hardly a music expert, but I see all "products" through a marketing lens, and I can't help but think that Adele has absolutely nailed her buyer persona, and that a big part of her appeal is how well she has instinctively matched her presentation, and her story, to her target audience's needs.
Every marketer knows that conflict and tension are central to engaging any audience. How could an Adele fan fail to notice when damaged vocal cords rendered her silent?
The tension grew as we waited to learn whether the surgery would work . . . whether her voice could possibly be as powerful afterwards. We'd seen enough press to anticipate a positive outcome, but still, when she sang on Sunday night, it was a thrill for all. No special effects needed.
Just as we were feeling some relief, we hear an announcement that we may lose her again, as she is thinking about taking the next few years "off" to focus on her personal life. Say it ain't so, Adele!
Please don't get me wrong, I'm not suggesting that anything about Adele's story has been staged or contrived to win awards or sell music. I am certain that she is the genuine person she appears to be, in absolutely every respect.
But I do think that those of us who are marketing more banal products can learn from her.
1)      Don't take shortcuts. As I discuss in my e-book, The Buyer Persona Manifesto, it's tempting to make stuff up about buyers. For example, it would be easy for us to guess that the music buyer persona is a 30-something who plays video games, multi-tasks constantly, and craves theatrics, staging and sex appeal along with his or her music.  But Adele's success tells us something very different is going on.
2)      The power of story. However perfect your product, you need to build a story around it that resonates with your persona. Building conflict and scarcity into the story increases its appeal.
3)      Be real. All buyers are craving authenticity and humanity. Could it be that we actually get more credibility with our target audiences when we don't pretend to be perfect?
I'll talk more about the secrets of building and applying buyer personas at my MarketingProfs online seminar this week. Please join me Feb. 23, 2012, at 12 p.m. EST (9 a.m. PST) for How to Build Personas that Persuade Buyers and Increase Sales.