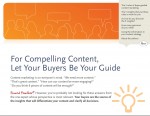 If you've developed buyer personas, does your content show it?  When persona-guided content looks much the same as it always did, it's a sign that the underlying personas are missing key insights.
Most marketers focus their buyer personas on information gained from their sales people, a product expert, the latest analyst reports, or purely demographic data such as job title, industry and company size. While quick and easy, these sources cannot tell you what your buyers are thinking about as they evaluate their options to solve a particular problem.
My concern about the missing parts of buyer personas motivated me to co-author with B2B marketing veteran Maribeth Ross, vice president of Marketing at NetProspex, a new eBook, "For Compelling Content, Let Your Buyers Be Your Guide."  This free resource launches today at Content Marketing World, where I'm presenting my "Building Your Buyer Personas" workshop.
To understand why the quick-and-easy approach to buyer personas won't help you develop better content, let's consider a typical scenario.
Our marketer, Kristen, talks to the in-house subject matter experts. She takes plenty of notes and learns about industry trends by reading trade magazines and analyst reports. Given her sources, most of what she learns focuses on the features and benefits of the company's product or service.  Any information about the target audience is probably basic demographics:  the buyer's job title, role in the decision, company size and industry.
Now consider a different approach.
Kristen kicks off her content initiative by interviewing recent buyers to probe for the Five Rings of Insight, her target buyer's perspective on the five factors that influence the decision to buy a particular product, service or solution. These insights include the buyer's Priority Initiatives, Success Factors, Perceived Barriers, Buying Process and Decision Criteria for the solution Kristen needs to message.
Kristen doesn't rely on a survey or focus group. She has one-on-one conversations with recent buyers to discover how they evaluated and compared her company's products and services to their other options. These interviews tell her exactly what outcomes resonate with buyers, their concerns about the company's approach, which aspects of the solution they use to compare their options, and where they get the information they need to make a decision.
Imagine if you could develop all your content based on direct conversations with the people who are your target audience.  Here are three tips for putting buyer insights to work in your content marketing.
1.  Interview buyers to gain real insights. It's not enough to know the title, age and gender of the target buyer. And if you make stuff up about your buyer personas, your marketing content won't look any different than it did before you took that step. You need to have a specialized kind of conversation with recent buyers, probing for insights that buyers have not yet shared with your sales people, your competitors, or anyone else for that matter.
2. Focus on the decisions you want to influence. Interview people who recently evaluated your solution to hear exactly how they compared your approach to your competitors' offerings. This gives you the data and confidence to define a messaging strategy that communicates the information that will motivate those buyers to choose you.
3.  Lose the jargon. Probe deeply on your buyer's use of words like  "streamline," "robust"  and other generic words that your competitors also use. When you know exactly what the buyer expects to be "robust", your content can speak directly to the outcomes and concerns that are most critical to them.
By gathering key insights from unscripted interviews with recent buyers, you will become the buyer expert. When you make your buyer the focal point for your marketing initiatives, they'll show their appreciation by choosing your company's solutions with increasing frequency.
I hope you enjoy the new content marketing ebook and look forward to your comments and questions.