One of the most important decisions a marketer needs to make is segmentation – how to determine the essential differences between customer groups and effectively market to them.
Companies use lots of criteria to define these segments – industry, company size, and geography are the most common. If you're one of the many who have attempted to add buyer personas to these segments, you've probably noticed that it's hard to see how you can to market to all of them.
Sales is lucky. They can identify the needs of one account and tailor the story accordingly. And it's a lot easier to sell to one person than a group.
So the natural instinct for marketers is to segment more and more in an effort to shape messaging and content for the needs of different buyers.
But that's a very expensive and ineffective strategy. Here's a client case that makes the point very clearly.
The building c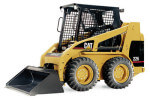 onstruction group of Caterpillar hired us to create buyer personas for customers of their compact and small Cat® equipment. In our early discussions, they identified five industry segments that they wanted to research – residential and commercial construction, concrete construction, agriculture, landscape and snow & ice removal.
We counseled them that assigning buyer personas to those five market segments would result in way too many niches to effectively market to. So we set out to to determine the essential differences in their buying decisions.
We conducted interviews with Caterpillar customers using the framework in the 5 Rings of Buying Insight™ to understand who, when and why buyers in each of these segments evaluated their equipment.
At the end of our research, what we found is that Caterpillar had only two types of buyer personas that they needed to target, and industry was not relevant to the segmentation.
One was what we'll call a "high-information" buyer. These buyers wanted the see a long list of the specifications of the equipment in a format that made it easy to compare different models of machines, including the competitors'.
The other was a "results-oriented" buyer. They had a specific task that they wanted to do and wanted rapid access to guidance on which machine would meet that need.
These two personas were common across all five of Caterpillar's market segments. No matter what the buyers were using the product for, the key distinction between Caterpillar's strategies to persuade them is based on their need for detailed information or specific functionality, full stop.
It's important to note that we didn't recommend that Caterpillar completely abandon their traditional segmentation. Caterpillar still produces marketing materials for each of these industries. But deep insights into their buyer's expectations for purchasing their equipment eliminated the need to invest in too many marketing activities, streamlining their content marketing and SEO strategy at a lower than anticipated cost.
For another example, we just published three slides to help you think about whether the buyer persona on our website should be one or two buyer personas.
When you're segmenting your market, buyer personas should simplify and reduce the number of ways you need to tell your story. If you're not seeing that outcome, you're placing too much emphasis on differences in who buys and not enough on how, when and why they buy.