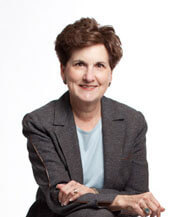 Adele Revella is CEO of Buyer Persona Institute, a popular keynote speaker at conferences around the globe, and author of Buyer Personas: How to Gain Insight into Your Customer's Expectations, Align your Marketing Strategies, and Win More Business (Wiley), named a Top 5 Business Book by Fortune Magazine in 2015.
Adele's inspiration for Buyer Persona Institute emerged as she developed and led the benchmark product marketing course for Pragmatic Marketing, the global training company widely considered the leader in B2B product management workshops.
Traveling around the globe to educate thousands of marketers, entrepreneurs and business owners, Adele witnessed the nearly impossible task people encounter when they attempt to influence people and decisions they don't fully understand.
Adele saw that the problem was universal – companies with from one to over one-thousand marketers had only snippets of insights into:
• WHICH buyers are motivated to listen to them (and which will never engage)
• WHAT buyers want to hear about (and what they find annoying)
• WHY buyers prefer their competitors or the status quo
An empathic person by nature, Adele was distressed to see so many incredibly smart, motivated people allocating their time and budget to activities that made no sense. At the end of one memorable course, a woman burst into tears while describing her frustration.
So when Pragmatic Marketing approached Adele to buy her business, Adele was ready to launch her third company (her first was a market research firm in the 80's). Now, seven years later, Buyer Persona Institute counts among its more than 100 clients some of the smallest and biggest corporations in the world— from startups, consumer brands and tech companies to household names like Caterpillar, HP, Siemens, SAP and Cisco.
A three-time SVP of Sales, Marketing and Product Management in tech and related industries, Adele started her career in market research with Regis McKenna, the agency that launched Apple and Intel.
Now a resident of the San Juan Islands in the Pacific Northwest, Adele enjoys sea-side living with her husband Steve, Arie the Bernese Mountain Dog, Charlie the Golden Retriever, and Missy the Calico Cat.