I'm concerned that so many people think that buyer personas begin and end with a description of a person. This demographic approach to buyer personas typically results in far too many personas, and information that is obvious or irrelevant for most marketers.
When marketers start with the objective to understand how buyers make the decision they want to influence, they're building about half as many personas and uncovering insights that tell them exactly what they can (and cannot) do to impact those buyers' decisions.
I think I understand the origin of the confusion. Companies have always segmented their markets by demographics (company size, industry, geography), so it's natural to expect that personas simply extend that model to focus on the buyers in those segments.
Consider which of these data points would help you understand what you can do to persuade buyers to choose the solutions you market: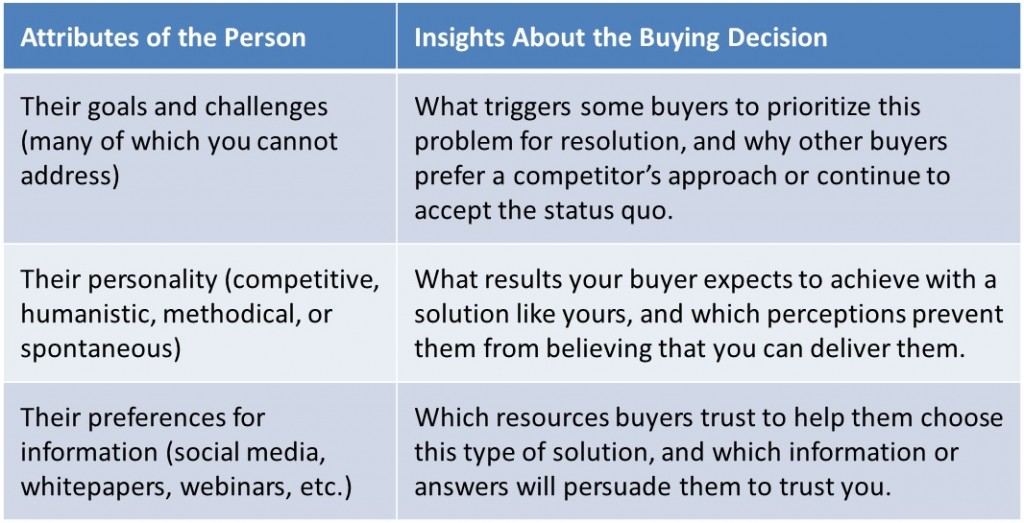 Demographics are a Dangerous Distraction
Countless blog posts and ebooks perpetuate the demographic approach to buyer personas. One marketer told me about a buyer persona training where they were advised to begin by choosing a name and a photo to represent their buyer. Other marketers are telling me about six-figure investments in buyer personas that contained endless demographic details but nothing they could really use.
I'm determined to correct these misperceptions.
Until recently, Buyer Persona Institute has primarily trained marketers whose companies scheduled one of our customized workshops for their teams. Today, we're announcing that the Buyer Persona Masterclass is available on demand to any marketer, in two parts:
Five pre-recorded modules for viewing on our website at your convenience (total viewing time is 2 hours)
A 90-minute live interactive session that includes coaching and mock interviews
I look forward to hearing from those of you who want to become the buyer expert marketers that stakeholders trust for persuasive marketing strategies.